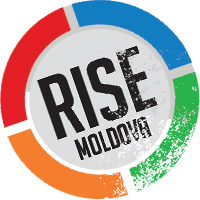 The Liberal Democratic Party of Moldova
Administrator: Tudor Deliu
Date of Founding: 08.12.2007
Country: Republic of Moldova
The Moldovan Liberal Democratic Party (PLDM) is a center-right party which was founded in December 2007 as an opposition to the Moldovan Party of Communists (PCRM), which ruled the country at that time. Until 2016 PLDM was led by Vladimir Filat, a former Democrat, and later prime minister of Moldova.

At the parliamentary elections on 5 April 2009 - the first parliamentary scrutiny to attend - PLDM obtained 12.43% of the vote, gaining 15 seats in the legislative body. Four months later Moldova held the early parliamentary election and on 29 July the Liberal Democrats captured a bigger slice - 16.57% - and 18 seats respectively. In order to seize the power from the Communists, PLDM joined forces with Our Moldova Alliance (AMN), the Liberal Party (PL), and the Moldovan Democratic Party (PDM). The four West-leaning political parties formed an Alliance for European Integration and let Vladimir Filat compose a new cabinet.

A new early scrutiny took place in November 2010 and PLDM swept 29.42% of the vote, enabling to form a 32-strong faction in the Parliament. This time it maintained the alliance with PL and PDM only, as AMN didn't pass the electoral threshold. The second Alliance for European Integration kept its grip on power and the Liberal Democratic leader as the prime minister.

In March 2011 PLDM absorbed AMN, which thus ceased to exist. The 30 November 2014 parliamentary elections were the last for PLDM; then it gained 20.16% of the vote and seized 23 seats in the Parliament.

In January 2016 PLDM withdraw from the government amid fierce public fights between Vladimir Filat and oligarch Vladimir Plahotniuc, who meanwhile grabbed the leadership in PDM and obtained a seat in the Parliament. After the defection of 18 faction members PLDM was represented by 5 lawmakers only. Mr. Filat was stripped of his immunity, arrested on corruption charges and abuse of office, and deferred to prosecutors.

At a party congress in 2016 PLDM chosed a former defense minister, Viorel Cibotaru, as its new chairman. Tudor Deliu, a former MP, took over two years later.

PLDM skipped the February 2019 parliamentary elections but participated in the October 2019 local elections, winning mayor's job in 48 communes and towns.

Copyright © 2019 Rise Moldova
Comunitate de jurnaliști, programatori și activiști.